Woodside will always try its best to ensure that all pets find appropriate, loving homes. However, due to age or illness, some will never be selected and remain as much loved residents. We are now one of the few charities in the area that does so.
Realising that indiscriminate and accidental breeding was at the root of their problem, Carole piloted a spay and neuter programme and the group began its pioneering work.
In the first year, two dogs, one litter of puppies and two litters of kittens were safely re-homed.  Thirty more animals were spayed or neutered through group fund-raising, with owners paying weekly after the operation.  Visiting homes for payment—which was often just 50p per week— was frequently in the most deprived areas of Plymouth and not for the faint hearted.
In 1981, the RSPCA began funding kennelling facilities at Fursdon which, in addition to considerable subsidising from Carole, enabled over 70 animals to be given a second chance. In 1985, with the number of rescued animals at 550, Carole and Dave sold Fursden and moved to Woodside at Elfordleigh, little knowing the enormity of what lay ahead.
With a lovely cottage and grounds for Dave's early retirement, but no boarding income to subsidise her welfare work, decisions needed to be made for the future. TAG decided to change its name to that of the new premises and Carole continued to give her time for free (as she does to this day), but fundraising had to move up a gear—no mean feat for what was still a small group of people.
Those times were very hard indeed.  Although the fledgling sanctuary was a ramshackle huddle of donated sheds and portacabins, its activities soon caught the attention of local people and animals began to flood in.  Unfortunately, significant cash gifts did not, and there were regular periods when closing the doors was a distinct possibility. 
Despite its roller coaster ride to present day, Woodside's broad field of work continued and evolved.  Slowly the shanty town of mismatched and decrepit outbuildings disappeared and in 1997, the new sanctuary re-build began in earnest.  Completion would be gradual—we kept our pledge to remain open— and even today, some building work remains on a back burner until funds are available.
Eventually the Woodside Animal Welfare Trust became a fully fledged, registered charity. Its original aims have only been altered in order to embrace animals other than cats and dogs.  We are now the only sanctuary in our area to take in most types of domestic pets, as well as a number of tame farm animals.
The purpose of our sanctuary is to provide loving new homes for unwanted pets. We believe we have a duty of care to give them the best second chance possible, and not just the first home offered.
We're aware that some organisations have rigid rules about not homing to elderly owners or families with young children. We prefer to take each home on merit and place the needs of the pet first. Some dogs adore young children and enjoy their boisterous play, while others, often mature pets, look for a low exercise, quiet life with matching owners. The one thing we always insist on is that no breeding takes place. Young pets are logged in for neutering as soon as they are of suitable age. Pre-home checks are carried out before an adoption can go ahead, ensuring that the new family is appropriate for the animal requested and that the home provides a safe environment, for example, an escape-proof garden for dogs.
Post-adoption checks are also mandatory, with a second if felt necessary.
We have, and always will refuse to release a pet into a home we believe is unsuitable.
For example, despite fierce opposition, we blocked an adoption for a dog we knew was petrified of children. She had been badly tormented in her first home and the man would not accept that his three small and boisterous children would be a nightmare for her. She eventually went off happily with a retired couple with no children.
We are living in an era when family life is easily fractured. Divorce, redundancy, eviction and, increasingly, emigration, frequently means that pets sometimes return to us.
We have to accept that this will happen to even the best of the homes we find and one of our adoption guarantees is that we will always take our own back.
No matter how many years have passed!
Some returns are much happier events. We frequently receive visits from adopted dogs and their proud owners. These are especially welcome and much appreciated by our staff.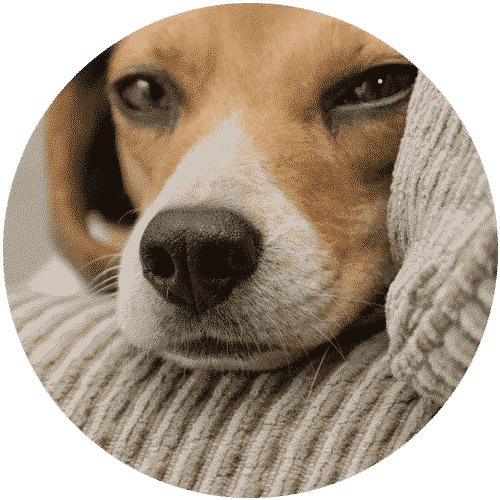 From time to time, we're asked to take in both mature and chronically ill animals.
As with all our intakes, there can be a variety of reasons why they no longer have a family. With elderly and sick pets however, it quite often it boils down to the following: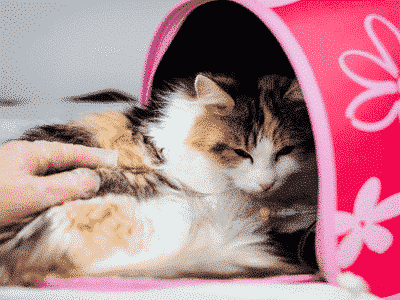 The owner enters a nursing home or hospital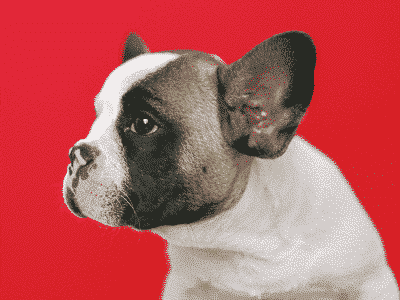 The owner dies without leaving pet care provision in the will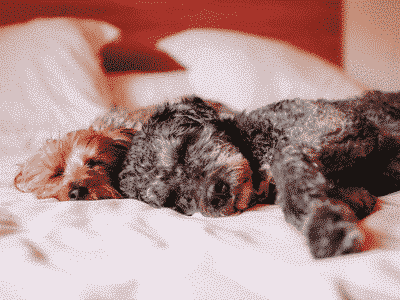 A younger pet arrives on the scene and causes friction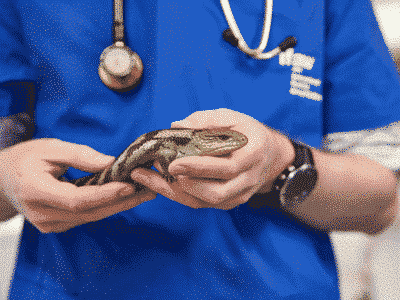 The owner cannot or will not pay veterinary fees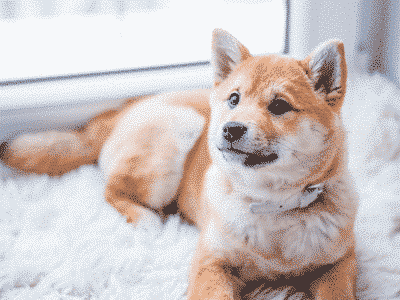 The owner buys an expensive pedigree (often with an expensive genetic disease) but won't consider pet insurance
Genuine owners are distraught at having to part with their long term pets and our staff members are regularly affected by their grief.  Probably the most distressing aspect of these intakes is when the owner is forced to enter care themselves.  They've given up their independence, their home and, as is often the case, their only companion too.
While finding another home isn't impossible, the chances are these animals will need our care for the rest of their lives.  We need to treat them differently to our short term 'guests' and provide as much comfort and interaction as we can.  We must also be aware of setting aside sufficient funding to underwrite their lifetime care and medication.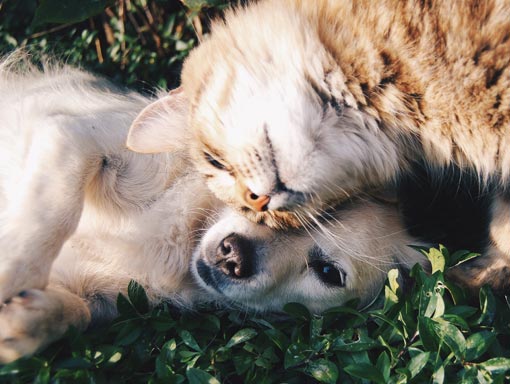 Special care & elderly cat & dog units
For as long as we can remember, we've always made a special space for these animals.  Even in the early days, we understood their need for extra comforts—armchairs and cushions etc—as well as homely background noises and human company.  Staff and regular volunteers provide a surrogate family and gentle exercise is encouraged but not enforced.  The cats enjoy daytime free range around the Memorial Garden and all have benefit of fresh air and sunshine.
In all cases, this is provided as required.  If a new home is offered but the family income is tight, we will discuss a supported adoption. 
Getting an oldie into a loving home is always the best result for the animal and, with space at a premium, there is usually another one waiting in the wings.
Arthritis, obesity and diabetes frequently keeps company with advanced years, so health care is an important part of our commitment to these special pets.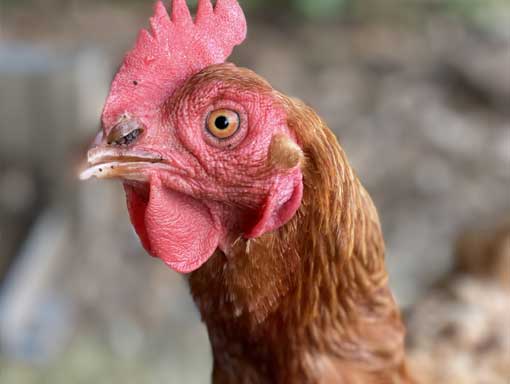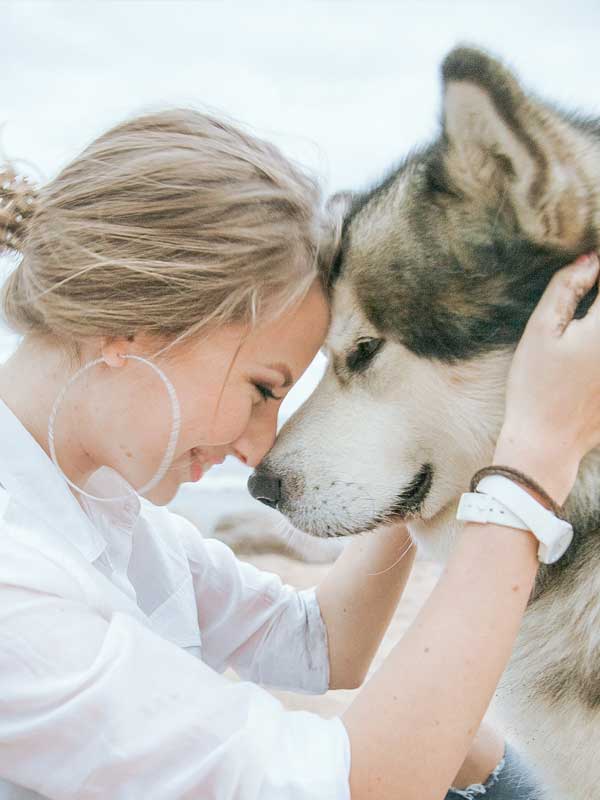 Caring for abandoned and abused pets within the sanctuary is, and always will be vital.
However, we would be foolish to believe that a safe haven is all that is needed to solve Plymouth's  perennial, animal welfare problems.  With a limited income and a weighty demand on its distribution, our charity is hard pressed to target less emotive, but vitally important, aspects of its field of work.
Plymouth has long been accepted as a low paid area with some large pockets of deprivation and this  is where we must focus any spare resources.  For this reason, we have experienced staff—Community Welfare Officers—that we send to these areas whenever funding allows. 
Despite their sometimes awesome reputations, these areas have some lovely residents who truly care about pets in their vicinity.  In addition, our CWOs are often welcomed into homes where official visitors are not and, because of this respect, get to reach animals that may otherwise have remained hidden.
Our first community 'weapon' will always be spaying and neutering.  Large dogs abound in these areas and are often left to breed at will or bred for gain.  This not only increases the surplus pool, it also tends to generate ill behaved animals that are difficult to control.
During these visits, we're often approached by elderly owners for advice.  Usually, guidance on parasites or nail clipping is all that's needed but, if we can, the animal is transported to our friends at the PDSA for treatment.
Likewise our CWOs will also befriend travellers and the homeless if a pet is involved.
Even with careful route planning, it's not unusual for the van to travel over one hundred miles per day. 
Some visits are to known 'animal collectors' who gather up large numbers of stray pets and quickly get out of their depth.  Despite living in unhygienic circumstances, they genuinely believe they are providing a service to animal welfare.  In these cases, the pets are not well cared for and usually suffer from skin complaints, flea infestations and are often allowed to breed indiscriminately .   This situation is always fraught with frustration and, although we usually get the animals away, we know they will probably be replaced sooner or later.
At Woodside Animal Welfare Trust due to the nature of our work as an animal rehoming charity, we obviously need to employ key members of staff but we rely also on a team of dedicated volunteers and supporters from all walks of life who help us in many ways.
Our charity shops have regular and some long-standing volunteers and we have other people who kindly donate their time and skills at Woodside to do odd jobs, fundraising, walking the dogs and generally helping us keep the sanctuary running. We would like to pay tribute to them all.
Volunteer Applications
SORRY – Quota full at present, please contact us again in the New Year at generalenquiries@woodside.org.uk  
Woodside is experiencing an unprecedented demand for voluntary placements at our sanctuary. Whilst this is very much appreciated, we are having to disappoint a lot of people by turning down their offers of assistance.
Charity Shops
For charity shops contact Angela or Jane on 01752 337552
Registered Dog Walkers
Intakes twice a year, these will be advertised once available.
We have limited spaces for people to register as dog walkers and be able to assist in the exercising of dogs on site.
In order to register please call the sanctuary on 01752347503 to check if space is available. If so in order to register you will need to provide a form of photo ID, proof of address dated within 3 months, and two passport-sized photos of yourself which are a true likeness.
We ask that all dog walkers try to walk at least once a month. You can walk between 10-3 daily. 
You WILL NOT be able to choose which dog you walk. The dog will be selected by a member of staff who will do so dependent on if you have any children / other dogs with you, the dogs health, the amount of time it will be walked for and if the dog has received a walk or not so far that day.
Upon registering you will be shown where to walk and talked through procedures that will need to be followed.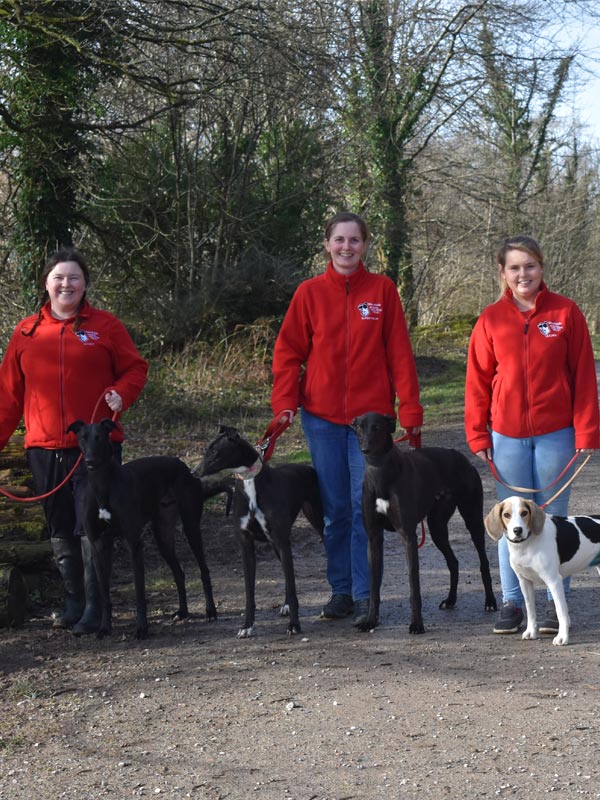 Before agreeing to take a pet in, we don't use their age or health problems as a barrier.
Neither do we determine its stay in a set number of days.  We will however, prioritise intakes if they are un-spayed bitches,  or those especially vulnerable and assessed  to be at risk.
Once registered with us, we are prepared, if necessary, to care for that animal for the rest of its life.  In general, the following is provided as and where required:
Staff provide 24 hour care for the most vulnerable
Adoption with a safety net of a no time limit return policy
Companionship and interaction through staff and volunteers
Pre and post adoption checks
Permanent residency for the elderly or infirm in sympathetic units
Supported adoption where long term medication is required
Dietary programmes for obesity and starvation
Forest walks for able dogs
Daily free-range for residents where possible
Bathing and clipping of neglected coats
Fostering and bottle feeding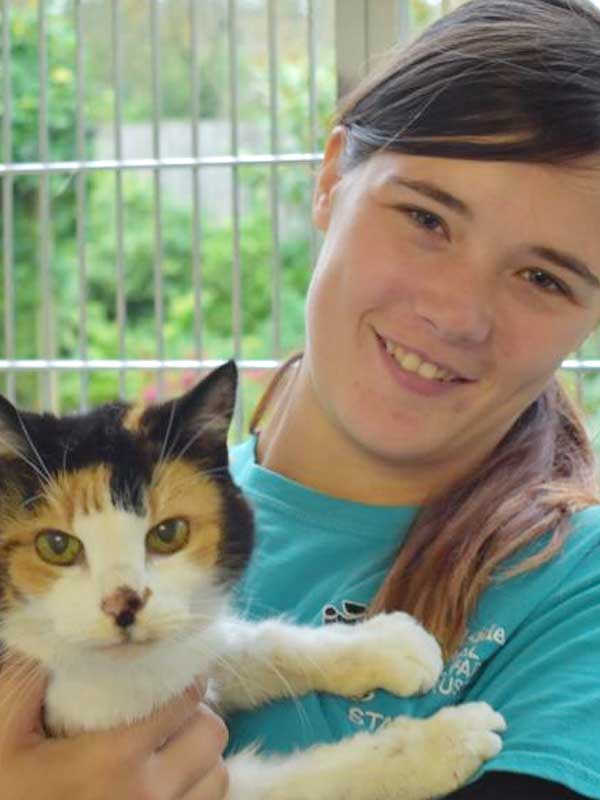 Today, the Woodside Sanctuary is far removed from the shanty town it once was.  From the old paddock has risen a purpose built, modern  facility and most of our elderly sheds have gone.   However, completion has been very stressful, and taken much longer than we had hoped. Due to our countryside location, strict planning rules were enforced, and this has cost us dearly in time and funding. 
One example of this was the need to control noise levels where we had to prove that dog barking would not exceed certain decibels. This was particularly expensive as we were forced to employ a specialist company to provide professional evidence.  High ceilings, in the plans to deaden noise, were also mandatory, as was a grass roof so that we blend in with the landscape.
Probably the most difficult challenge of all,  was to achieve a bigger sanctuary when we were only allowed to copy the 'footprint' of the old one.  This was achieved by digging  down a level.  Despite this hurdle,  a comfortable, staff and pet friendly environment is now below ground, but with the benefit of daylight runs.
All the above examples have, over the years, come to fruition and most of the remaining tasks  are cosmetic or on a smaller scale.  Eventually there will be some serious landscaping to do, but for now the goats love the mounds of earth and the pigs enjoy rooting around the rough grassland.
In our adjacent fields we have environmentally friendly reed bed ponds.  As well as coping with excess run off water and waste from the sanctuary, the ponds attract indigenous wildlife and plants. 
Current facilities include:
Reception and education/ event room.
Treatment room for visiting vets.
Catteries, kennels and a unit for small animals.
Retirement units for elderly and special care pets unlikely to be offered homes. 
Feral cat unit for residents and for wild cats which have been trapped for neutering.
Pens for rabbits,guinea pigs, chinchillas, ferrets, and a bird avairy. 
Fields for resident pigs, ponies, sheep and goats.
Sanctuary for chickens, who have the free roam of the sanctuary by day.
On-site neutering clinic for our animals.
On-site exercise fields for dogs at the sanctuary.
Add to this staff and laundry facilities, storage and office space.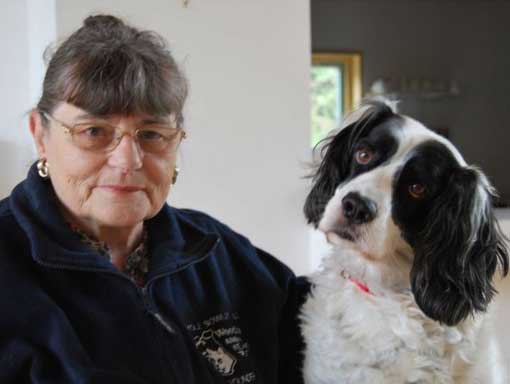 Woodside is led by our Founder and Administrator, Carole Bowles MBE.
Carole was presented with this honour, by Her Majesty The Queen in 2000 for over forty years of unpaid service to animal welfare. The Woodside Animal Welfare Trust Committee members are unpaid – along with their names you will see the date they joined.
Carole Bowles MBE (1977) Chair, Ann Marshall, Margaret Gudonis, Mandy Maclean, Roy Stokes (2021), Jan Gorman (2010), Jenny Rogers (2012)
Property ownership in not specific Trust policy. However in accordance wih charity sector guidelines, the Trustees acknowledge that a broad income base is required in order to provide a secure future for the Charity and that as per professional advice it is more cost effective to obtain a bank loan than to rent commercial properties when possible. The Trust does rent a further six charity shops currently.
Consequently the Trust has purchased 4 commercial properties, all incorporating a charity shop and residential property for rent to help provide income to fund the Charity's work. In addition to the above, 3 x residential propertys have been gifted to the Charity and have been kept to provide long term rental income, any or all could be sold if required at a future date.